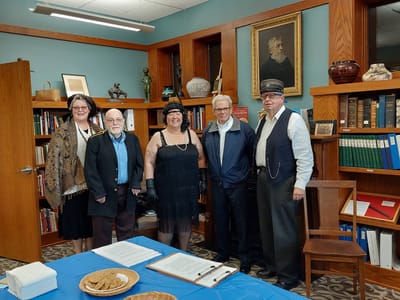 Merrill Transit Celebrates 100 years of Motor Bus Service on November 17th!

The Nickel Tour event on November 6th was a great success - about 140 people showed up at the Historical Society to take the Nickel Tour narrated by Tom Burg, Sue Kunkel, Deb Schleif, Rick Blake, Tom Hayden, and Anne Torkelson - all in costume. They did a great job and everyone had a good time traveling the route of the original trolley, which started in 1890 and was converted to motor buses in 1921.
Brad Brummond from Merrill Transit did an awesome job of taking reservations, getting the buses lined up for the event, and making sure everyone got a tour.
There are some color brochures of the Nickel Tour Script still at the Historical Society. If you would like one, stop in.